The answer is Yes. You should buy that biotin Supplement.
If you have been experiencing hair loss, suffer blood-sugar imbalances, or have surprise weight fluctuations, then maybe your body is trying to voice out a deficiency that is going to be fulfilled with the supplement biotin, and other more than the predictable health benefits of taking biotin.

You are at risk of biotin deficiency if you have just given birth, are recovering from delivery, have naturally low levels of biotin, or if your child shows a lack of biotin in the blood, then this may indicate that 
Here is Vivek Chugh, a popular youtube, who does on this biotin journey to debunk whether or not one really experiences improved hair growth or not.


The short version of this blog is -  what are the health benefits of taking biotin supplements and what is the right dosage of biotin supplements?
So read on to see how biotin is a hero B vitamin in regulating various metabolic processes that enlist various health benefits of taking biotin. 
Multivitamins stock up pharmaceuticals and skincare popups, each marketing a vitamin that you hadn't heard of. But rather than just being risk averse, have you ever wondered how scientifically, these tablets, capsules, and gummies may be right for you? 
HEALTH BENEFITS OF TAKING BIOTIN 
Biotin is required for the efficiency of plenty of metabolic processes in the body. From your heart, blood, brain and to your liver, biotin is the most important nutrient that enables the smooth functioning of the metabolic processes occurring in these essential organs.
Biotin enables Diabetes Management
Biotin is necessary to digest glucose in the body. Diabetes is a result of an imbalance in blood sugar levels. It has been found that people with diabetes make significant gains from the health benefits of biotin.
People with type 1 diabetes have been shown to decrease 50% in fasting blood glucose levels with a dosage of 16 mcg of biotin every day.
Patients with type 2 diabetes require biotin to activate major enzymes involved in glucose metabolism. 3mcg of biotin for three times a day for a week, along with a probiotic showed normalization of glucose levels in diabetic patients.
Biotin Improves Hair Health
Biotin is necessary for promoting keratin production in the body which is necessary for the vitality of your skin, hair and nails. A deficiency of biotin has resulted in hair thinning, brittle hair and bald patches among many others.
The health benefits of taking biotin have shown a resurgence of lost hair density in ageing individuals who are recovering from giving birth and under chronic stress.
The biotin daily dosage for an average individual is 30 mcg, which is equivalent to one capsule of this Biotin Supplement from Satthwa. However, if you have been showing biotin deficiency, then you can consult your doctor to increase the dosage as required.
Biotin Boosts Nervous System Functions
Ever experienced crippling brain fog? Worse, have you been experiencing brain fog for a long time?
Have trouble sleeping? Or relaxing? This is your body's indication that it is growing deficient in necessary B vitamins and you need to work on your biotin intake.
Biotin deficiency has also been linked to anxiety and various other mental disorders. An abundant nutrient can also grow deficient and weaken your body.
This is why, if you want to recuperate your body's defence mechanism, inundate your diet with biotin-rich foods like - eggs, lean meat, animal livers, sweet potatoes, mushrooms and bananas, among many others.
Studies have shown that biotin supplements significantly improve and relieve the nervous system.

That is not where the health benefits of taking biotin stop. So, biotin suffices your body's nervous, cosmetic, and digestive capabilities, while improving the absorption of healthy nutrients in your blood, and preventing food intolerances and anaemia.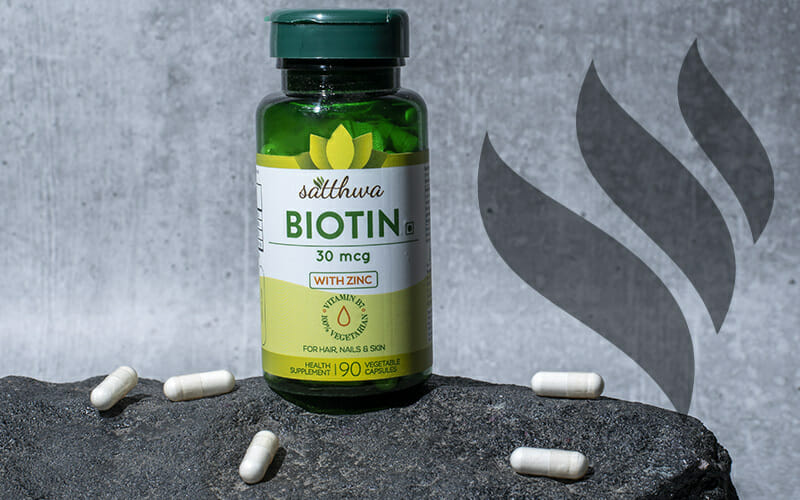 It is advised for adults to consume 30 mcg of biotin every day, to fulfil their required daily average. This dosage is also appropriate for pregnant women, and women recovering from delivery.
Along with Biotin, Satthwa's Biotin supplement also supplies 25% of the RDA of Zinc to the body.